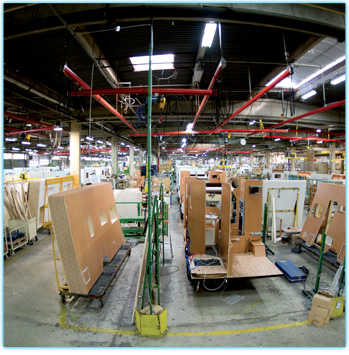 CHAUSSON is a trusted French brand in the world of leisure vehicles. A camper designer and manufacturer for over forty years, CHAUSSON offers an accessible range that is reliable and filled with practical technology. Faced with the different wishes of different users, CHAUSSON offers several complete lines that are adapted to the needs of each individual…
But listening to the ideas of those who will be living in the campers, CHAUSSON takes into account user needs from the design stage and includes them in technical specifications. A creator of respected and generous designs, CHAUSSON has the legitimacy and means to be a pioneer. From the historic Acapulco models to the recent Sweet line, innovation is at the heart of our goals. With CHAUSSON, you'll discover how to create your own horizon…
Production site Tournon-sur-Rhône (France).
Digital machining workshop producing bodywork panels.
A customer relations department is specially dedicated to welcoming and advising users and relations with CHAUSSON distributors. You may be received by appointment.
Before delivery of each motorhome, CHAUSSON proceeds with all roadworthiness operations: verification of parallelism, empty weight and complete cleaning.
Simulator recreating rolling or parking conditions in the rain allowing intensive waterproofing tests.
CHAUSSON network of 165 distributors in Europe.
Extreme cold test in a climatized room.